Creating your broker account
The Broker account should be under our affiliation. If in case you already have a broker account that is not under us, you will have to create a new one.
(Important: The bot will not be installed if you did not use the button and follow the right details.)
Details what to put about the account (Must be Strictly Followed)
A. Please Select: MT4.... NOT MT5

B. Account Type: Micro (1 lot  = 1,000)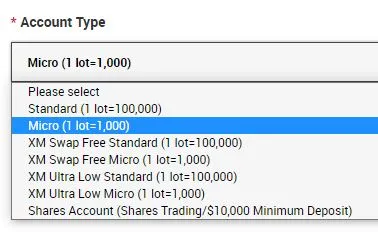 C. Trading Account Details: Currency = USD; Leverage = Max (1:888)

**For those not residing in the Philippines, we recommend still registering under PH country and use a phone number that has roaming so when XM calls for validation and KYC, they will contact a PH number.
After creating the account, it will usually take 3 days for XM to verify your account. Once verified, you can then proceed to number 2, Funding your XM account.
II. Funding your Trading Account.
- Log in my.xm.com. Deposit a minimum of $500 to your XM account.
III.  VPS Payment
- Monthly VPS is P500. For new accounts, at least 2 months worth of VPS (P1,000) payment is required. (Screenshot is needed)
- Send the payment using the details below (Please take a screenshot of the transaction)
G-Cash - 0917 888 73 12
   BPI -1359 6652 41
   John Reinel U. Penetrante
   Lapu-Lapu Cebu
Please note : No refund of VPS is allowed
VPS "Virtual Private Server" allows the Robot will Trade 24/7
Admins will be collecting future VPS payments through our Chatroom
*you may also opt to pay the whole QTR, SEM or Year"
IV. Request Robot installation
Fill all necessary Details to this FORM and attached the screenshot here
Link: https://bit.ly/3wTYiUo
V. Joining Discord is a must! 
 -All communications will be done in Discord, from the installation process to installation and monitoring. Support is also  done through Discord chatroom.
Joining the Group Chat
-Download The Discord App on your mobile phone or PC to get updates of your account.
If you are new to discord, checkout the "starter guide" room in or channel and watch the videos so you will be guided how to use it.
Request a role to access the rooms for all Izanagi users
Check the

"Installation Updates"

room for update on your installation request.

Always Check the DISCORD to get updated of your accounts.

Admin will update you on the process of your account thru our Discord above. You can also ask our admins in the GC for any questions or updates
Familiarize yourself with our FAQ rooms in Discord while waiting for your installation.